With the cooperation of Fujifilm Corporation and other organisations, the following two videos have been released to show how to provide first aid for damaged photographs caused by wind, flood and tsunami disasters.
This know-how is based on the experience of the Sanriku Archive Disaster Mitigation Centre and volunteers who also work pro bono to return and rescue photographs (Rikuzentakata City souvenirs, Kamaishi City souvenirs) that were washed away by the tsunami after the Great East Japan Earthquake.
The key point is to dry or freeze them as soon as possible. If they are well dried, they can be processed slowly after life has settled down.
Save as many important photos of you and your family as possible in case of a disaster.
By getting the word out to a wider audience before a disaster strikes, you can save photos that are important to those affected.
Please save as many photos as possible, which are precious treasures for you and your family.
【Contents】
1)First Aid for Photos Wet with Water or Mud
2)Post-Dryin Treatment of Disaster Photos -Basics- Cutting out – Washing or Wiping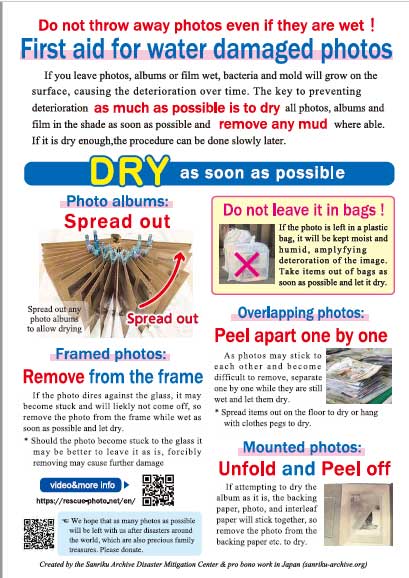 Flyer showing how to apply first aid to photos covered in water or mud.
You can download, print and distribute this flyer.
English translation was done by FUJIFILM New Zealand limited and pro bono members.
 
*FUJI FILM NZ:Photo Rescue Project
     *        *       *
The Disaster Photo Rescue Network is operated by the Sanriku Archive Disaster Mitigation Center (a non-profit organization) as part of its project, with the help of pro bono staff.
This activity is made possible by your donations.
Please make a donation!(Jump to the Sanriku Archive Disaster Mitigation Center "Donation Site")